Los Angeles had constructed the very first
Olympic Village
for the Games. The Olympic Village consisted of
321 acres in Baldwin Hills and offered 550 two-bedroom portable bungalows for the male athletes, a hospital,
post office, library, and a large number of eating establishments to feed the athletes. The female athletes
were housed in the
Chapman Park Hotel
downtown, which offered more luxuries than the bungalows.
The 1932 Olympic Games also debuted the first photo-finish cameras as well as the victory platform.
Approximately 1,300 athletes participated, representing 37 countries.
Evelyn Furtsch Track Scholarship
Awarded by the Tustin Area Historic Society
Tustin High School Winners
Awards given at the Senior Scholarship Breakfast


| | |
| --- | --- |
| 2019 Winner - Odalis Rincon Ramirez | 2019 Winner - Jose Munguia |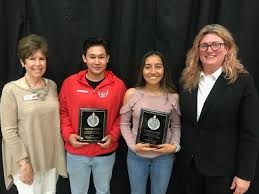 2018 Evelyn Furtsch Track Scholarship recipients
.
Left to right: Gretchen Whisler, Uriel Castaņeda, Arlene Peraita, Barbara Squyres

Tustin Area Historic Society: Presenters
Pete Beatty: TAHS President and Scholarship founder
Gretchen Whisler: Past TAHS President,
Judy Kuykendall: TAHS Board and past Tustin High School track and field star.
Marilyn Humeston: Daughter of Evelyn Furtsch
Barbara Squyres: Granddaughter of Evelyn Furtsch
Offical website for Evelyn Furtsch Ojeda
IOC/International Olympic Committee: Please call 714 504-4088 for verification
We will provide a certified letter from the daughter and granddaughter of Evelyn Furtsch.

E-mail us your questions and comments